The South Bondi seafront is regularly transformed into a mixture of dance party and surf comp when the Bondi Boardriders set up their unique brand of surf competition. Normality is transformed as Tony Spanos and the Bondi Boardrider circus comes to town. The Peace Bus sets up alongside a dance floor and judging platform as surfers go out and do their thing. The mixer of surf and sounds has become a unique experience in Sydney.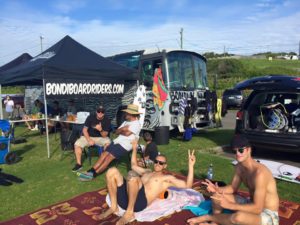 There has been quite a few Boardriding Clubs in Bondi, but none as long lasting as Bondi Boardriders, currently the only men's short board club on the famous stretch. In many ways it's an amalgamation of the history of Bondi's clubs, with some members the offspring of clubs from decades past, and other members having been in other now defunct clubs.
Boardriders organizations at Bondi have taken many forms, from breakaway groups to amalgamation of originally opposed clubs, even to satellite chapters of international clubs. Wind and Sea was such a club, set up in Bondi after a trip to the US based foundation club by Dave Spencer, Dennis Lindsay, and Max Bowman. Another club around this time, purported to Bondi's first boardriders club was South Bondi Boardriders Club. Many of its members now surf in the longboard club, although Bondi Boardriders Club is the closest manifestation to South Bondi.
South Bondi Boardriders were deemed too decadent by some surfers and the Ford Brothers (Ron and Victor) formed Panache, which claimed a more disciplined approach to the sport. Rivalry was fierce and a similar opposition could be found again when in the 80's once more two clubs existed at one time; Bondi Boardriders and ITN (club In the Nude). Run by two contemporaries Matt Elks and Dave Gyngell respectively, the rivalry remained charged from the beach, to school, to the pub, as surfers carefully built their allegiances. With both clubs containing many pro surfers in their ranks the rivalry was charged in much the same way as it had been with Panache and South Bondi.
As Bondi's only remaining club and also the longest standing in, Bondi Boardriders, 'Elksy' established it in the early 80's, is in many ways a manifestation of all past clubs. Proudly it can reflect on a great history of surfers at Bondi including Kevin 'the Head' Brennan the only surfer to win both junior and open Australian titles simultaneously, Ron and Victor Ford, Smok'in Joe Engels, Richard Cram (former world number 4), Rod Kerr (Bronte surfer for ITN, former world number 6), Cheyne Horan (former world number two, and World Masters champion), Steve Jones (Australian Champion) Matt Elks, Dean Cook, Bill Powers, Ben Webber (Australian Champ), and currently Clancy Dawson (2003 Australian team).
The current club continues to enjoy the benefits of club life in Bondi and seeks to continue the tradition of surfing in the valley.